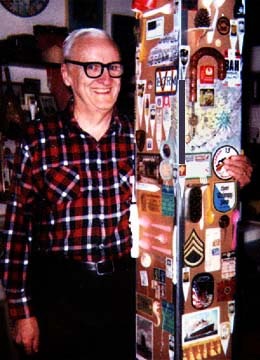 Clovis von Tavel Crummett

1916-1988
Clovis Crummett was my father. He spent most of his life (the part I know about at least!) in the Army or in government service, working as a freelance photographer, US Army photographer and photo officer and otherwise involved in military and government film production. He was primarily a script writer in the 1960s and 70s. (One of his films, a documentary about the inauguration of Lyndon Johnson, was nominated for an Academy Award©.) He retired from the U.S. Army in 1963. He entered government service as a script writer, working at Webb Air Force Base (now closed) near Big Spring, Texas, then at the Naval Photographic Division in Washington, DC. Suffice it to say he was not what you normally think of as an "artist."

Nevertheless, he did produce art! From what I remember him telling me as a kid, he started painting when stationed in Korea in the late 50s. He started adding things to his paintings, like putting actual wine labels on a still life of bottles. Pretty soon he was working in three dimensions with wood and other found material. He was always dragging home some junk that he found by the side of the road or that he picked up by the dumpster at work. The piece in the photo above was based on a store display rack he found in a trash bin. Many of his works are semi- autobiographical. The above-mentioned piece is covered with souvenirs of a long life in the military and beyond- tickets, fast food wrappers, patches, postcards, keys, letters,

He was a father, and a darned good one. When I was a kid people would say how much I looked like him. The older I get, the more I'm becoming my dad! I think about him often and miss him greatly now that I'm old enough to see where he was coming from. I wish I could talk with him about his art and the work I'm doing myself now. I know he'd be proud of me and what I've done with my life.

He was a great fan of Joseph Cornell, a new York artist who made shadow boxes from found materials. He also liked Louise Nevelson, a sculptor who also worked in found materials, who would create very large pieces made from bits of wood and furniture, often painted black.

Many of these pieces are untitled. While I'm sure he had names for most of them, he often didn't put them on the work. In fact, he often wouldn't even sign them. But he would cover the walls with them. I grew up surrounded by this stuff. It was literally a part of my life. It never occurred to me to ask him about them. It was just a given in my life. Didn't other kids' dads make weird stuff to hang on the walls?

See his art!